Major Ed W. Freeman (U.S. Army, Retired) Medal of Honor Recipient Major Ed W. Freeman (U.S. Army, Retired), passed away on Aug. 20, 2008 at St. Alphonsus Regional Medical Center in Boise, Idaho, due to complications from Parkinson's Disease. He was 80 years old. Ed was born on Nov. 20, 1927 to William Ed and Caroline Freeman in Neely, Miss.; the sixth of nine children. He married Barbara Morgan on April 30, 1954. Ed and Barbara had two sons, Mike, born in 1956 and Doug, born in 1962. At age 17, Ed enlisted in the U.S. Navy and served on the USS Cacapon for two years. Upon return to Neely, Ed graduated from high school and then enlisted in the U.S. Army. He was a Master Sergeant in the Army Corps of Engineers, but he fought in Korea as an infantryman. He took part in the Battle of Pork Chop Hill and was awarded a Battlefield Commission, which enabled him the opportunity to apply to flight school. However, standing at 6'4", the 6'2" height restriction prevented him from being eligible, earning him the nickname "Too Tall." In 1955, the Army regulations changed, thus allowing Ed to attend flight school. He earned his wings at Ft. Rucker, Alabama. Ed began flying fixed-wing aircraft, then switched to helicopters. After logging thousands of hours in choppers, Ed was sent to Vietnam in 1965, assigned to the 1st Calvary Division (Airmobile). He was second in command of a sixteen-helicopter unit responsible for carrying infantrymen into battle. On Nov. 14, 1965, Ed's helicopters carried a battalion into the Ia Drang Valley for what became the first major confrontation between large forces of the American and North Vietnamese armies. Back at base, Ed and the other pilots received word that the soldiers they had dropped off were taking heavy casualties and running low on supplies. In fact, the fighting was so fierce that Medevac helicopters refused to pick up the wounded. When the commander of the helicopter unit asked for volunteers to fly into the battle zone, Freeman alone stepped forward. He was joined by his commander, and the two of them began several hours of flights into the contested area. Because their small emergency-landing zone was just one hundred yards away from the heaviest fighting, their unarmed and lightly armored helicopters took several hits. In all, Freeman carried out fourteen separate rescue missions, bringing in water and ammunition to the besieged soldiers and taking back dozens of wounded, some of whom wouldn't have survived if they hadn't been evacuated. For these actions, Ed was awarded the Congressional Medal of Honor on July 16, 2001, by President George W. Bush. Freeman left Vietnam in 1966 and retired from the Army the following year. He flew helicopters another 20 years for the Department of the Interior, herding wild horses, fighting fires, and performing animal census. Then he retired altogether, deciding to spend time with his family. Ed is survived by his wife of 54 years, Barbara Freeman, his sons Mike (Anita) Freeman and Doug (Tina) Freeman, four grandchildren, Cori (Brad) Dalton, Scott Freeman, Haylee Freeman, all residing in Boise and Joshua Freeman of San Diego, Calif., three great-grandsons, Cooper and Bronco Dalton, and Trace Freeman, of Boise, as well as his sister, Betty Waters of Warner-Robbins, Ga. and brother Charles Freeman of Mobile, Ala. Ed was preceded in death by his parents, Caroline and William Ed Freeman, his brothers Pete, Joe, Loren and sisters Miriam, Louise, and Marcella. Ed's life will be celebrated on Saturday, Aug. 23, 2008 at 11 a.m. at Capital Christian Center, 2760 E. Fairview, Meridian, Idaho. A committal service with full military honors will follow at the Idaho State Veterans Cemetery. Services are under the arrangement of Alden-Waggoner Funeral Chapel. The family wishes to thank the wonderful staff at St. Alphonsus, Idaho Veteran's Service organizations and the Idaho Army National Guard. Memorial contributions may be made to the National Parkinson's Foundation at 1501 NW 9th Ave. Miami, Fl 33136-1494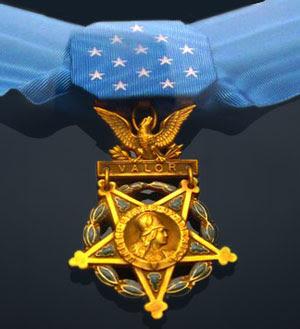 Medal of Honor Recipient Captain Ed Freeman
Freeman's official Medal of Honor citation reads:
Captain Ed W. Freeman, United States Army, distinguished himself by numerous acts of conspicuous gallantry and extraordinary intrepidity on 14 November 1965 while serving with Company A, 229th Assault Helicopter Battalion, 1st Cavalry Division (Airmobile). As a flight leader and second in command of a 16-helicopter lift unit, he supported a heavily engaged American infantry battalion at Landing Zone X-Ray in the Ia Drang Valley, Republic of Vietnam. The unit was almost out of ammunition after taking some of the heaviest casualties of the war, fighting off a relentless attack from a highly motivated, heavily armed enemy force. When the infantry commander closed the helicopter landing zone due to intense direct enemy fire, Captain Freeman risked his own life by flying his unarmed helicopter through a gauntlet of enemy fire time after time, delivering critically needed ammunition, water and medical supplies to the besieged battalion. His flights had a direct impact on the battle's outcome by providing the engaged units with timely supplies of ammunition critical to their survival, without which they would almost surely have gone down, with much greater loss of life. After medical evacuation helicopters refused to fly into the area due to intense enemy fire, Captain Freeman flew 14 separate rescue missions, providing life-saving evacuation of an estimated 30 seriously wounded soldiers -- some of whom would not have survived had he not acted. All flights were made into a small emergency landing zone within 100 to 200 meters of the defensive perimeter where heavily committed units were perilously holding off the attacking elements. Captain Freeman's selfless acts of great valor, extraordinary perseverance and intrepidity were far above and beyond the call of duty or mission and set a superb example of leadership and courage for all of his peers. Captain Freeman's extraordinary heroism and devotion to duty are in keeping with the highest traditions of military service and reflect great credit upon himself, his unit and the United States Army.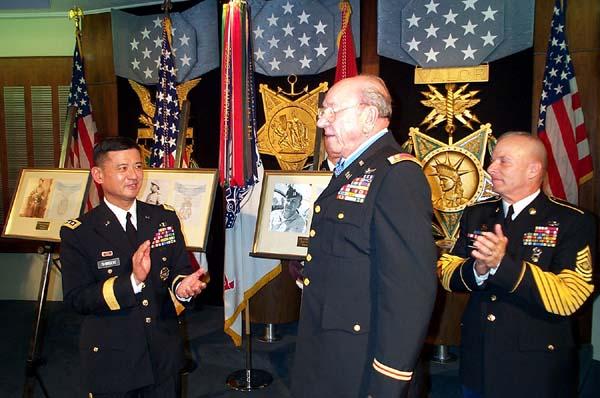 After receiving the Medal of Honor, Ed Freeman was inducted into the Pentagon's Hall of Heroes on July 17, 2001. Army Chief of Staff General Eric Shinseki (left) officiated and was assisted by Sergeant Major of the Army Jack Tilley (right).
LZ X-ray, Vietnam
11-14-1965
You're a 19 year old kid. You're critically wounded, and dying in the jungle in the Ia Drang Valley , 11-14-1965, LZ X-ray, Vietnam. Your infantry unit is outnumbered 10-1, and the enemy fire is so intense, from 100 or 200 yards away, that your own Infantry Commander has ordered the MediVac helicopters to stop coming in.
You're lying there, listening to the enemy machine guns, and you know you're not getting out. Your family is half-way around the world, 12,000 miles away, and you'll never see them again. As the world starts to fade in and out, you know this is the day. Then, over the machine gun noise, you faintly hear that sound of a helicopter, and you look up to see an un-armed Huey, but it doesn't seem real, because no Medi-Vac markings are on it.
Ed Freeman is coming for you. He's not Medi-Vac, so it's not his job, but he's flying his Huey down into the machine gun fire, after the Medi Vacs were ordered not to come.
He's coming anyway.
And he drops it in, and sits there in the machine gun fire, as they load 2 or 3 of you on board.
Then he flies you up and out through the gunfire, to the Doctors and Nurses.
And, he kept coming back…. 13 more times….. And took about 30 of you and your buddies out, who would never have gotten out.
Medal of Honor Recipient, Ed Freeman, died last Wednesday at the age of 80, in Boise , ID ……May God rest his soul…..
I bet you didn't hear about this hero's passing, but we sure were told a whole bunch about some Hip-Hop Coward beating the crap out of his "girlfriend."
Medal of Honor Winner Ed Freeman!
Shame on the American Media.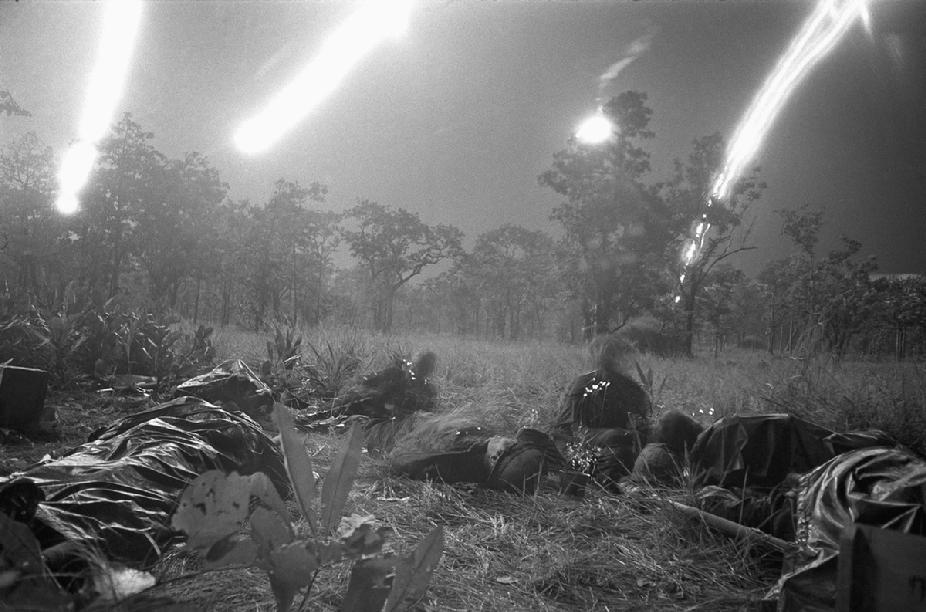 LZ X-ray, Vietnam 11-14-1965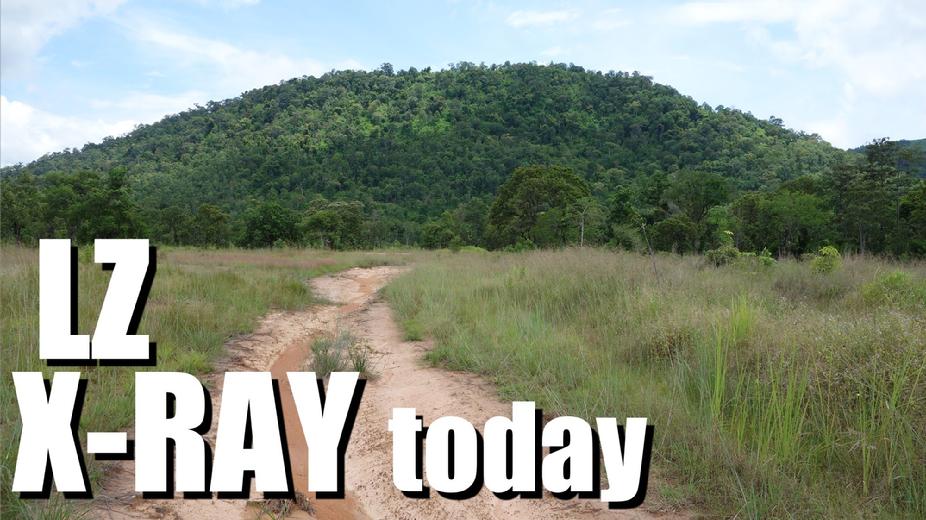 2017
THE BATTLE OF IA DRANG VALLEY
Vietnam War 1965