David Oswald Nelson (October 24, 1936 – January 11, 2011) was an American actor, director, producer. He was the elder son of bandleader/TV actor

Ozzie Nelson

and singer

Harriet Hilliard

and the older brother of singer

Eric "Ricky" Nelson.
Nelson, along with his brother and their parents, appeared on the long-running sitcom The Adventures of Ozzie and Harriet in the 1950s and 1960s. During the run of the series, Nelson directed several episodes. After the series' end, he continued acting, directing and producing. His most memorable 'break-out' performance was in the 1959 thriller The Big Circus, wherein Nelson played a disturbed, apparently homicidal 'troubled youth', while his last film appearance was in the campier Cry-Baby (1990). For his contribution to the motion picture industry, Nelson was honored with a star on the Hollywood Walk of Fame at 1501 Vine Street, on May 9, 1996.
He attended Hollywood High School and was a member of Kappa Sigma fraternity while attending the University of Southern California.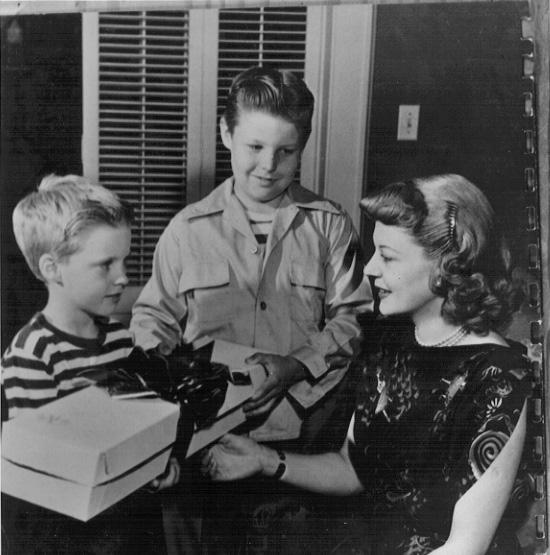 Rick, David and Harriet from a very early episode.
Nelson had two sons—Daniel Blair and James Eric—from his first marriage with June Blair, which ended in divorce, and two sons and a daughter—John, Eric, and Teri—from his second marriage, to Yvonne Huston.
David Nelson dies at 74; last surviving member of the TV sitcom family.
David Nelson died on January 11, 2011, in Century City, California, from complications of colon cancer. He was survived by his wife Yvonne and five children.
Nelson was cremated and chose not to be interred in the Nelson family plot in Forest Lawn Memorial Park in Hollywood Hills, California, instead choosing a niche in Westwood Memorial Park's outdoor Garden of Serenity columbarium.
Miss Edwards (Connie Nelson) and Dave Nelson work at the law firm of Dobson & Kelley.