Game Two Photos
of the 2010 MLB World Series
| | |
| --- | --- |
| Cody Ross #13 | Freddy Sanchez #21 hugs Edgar Renteria |
San Francisco Giants right-hander

Matt Cain

is still the only starter who hasn't allowed an earned run this postseason after shutting down the Texas Rangers in the Giants' 9-0 win in Thursday's Game 2 of the World Series.

It has been the House of Horrors for the Rangers so far in this series.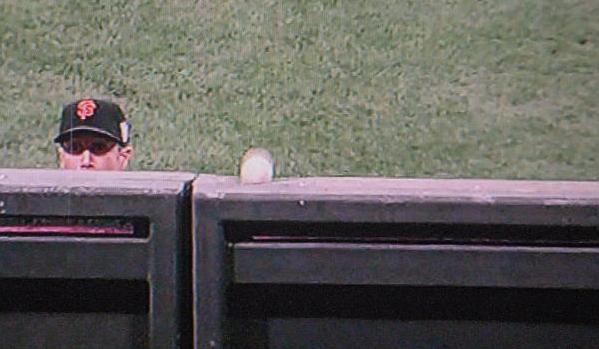 Missed it by THAT much: Giants fence denies Kinsler home run...
Half a biscuit for breakfast, as Harry Caray used to say, and Ian Kinsler would have achieved World Series immortality.
Alas: Cruel, cruel fence.
Kinsler seemed certain he had given the Texas Rangers a 1-0 lead by hitting a home run to start the fifth inning of Game 2.
The center-field fence at AT&T Park had other ideas, snatching the ball — with San Francisco Giants outfielder Andres Torres looking on — to keep it in play for a frustrating double.
How frustrating?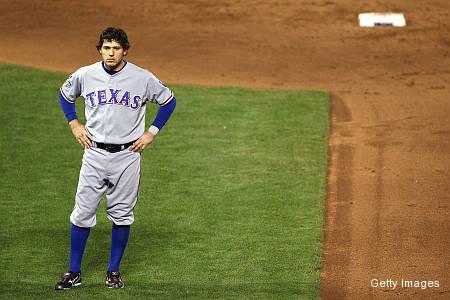 The Rangers stranded Kinsler at second base and Giants right-hander Matt Cain didn't let Texas off the mat. San Francisco broke open a close game in the eighth inning and beat the Rangers 9-0 to take a 2-0 lead in the Series.
Fall Classic ratings plummet
The San Francisco Giants' 9-0 rout of the Texas Rangers earned the second-lowest television rating for a World Series Game 2, with more then one-quarter the audience disappearing from last year.
The Giants' win Thursday night, which gave them a 2-0 World Series lead, got an 8.5 rating and was seen by 14.13-million people, Nielsen Media Research said Friday.
That was down 26 per cent from the 11.5 rating for the New York Yankees' 3-1 win over Philadelphia in Game 2 last year. The only lower-rated Game 2 was in 2008, when Tampa Bay's 4-2 victory over the Phillies got an 8.1 rating.
The 2008 Series set a record for the worst rating, with an 8.4 over five games. The rating rebounded to 11.6 last year, with larger markets and the first Series since 2003 extending past five games.
Despite the absence of New York and Los Angeles, there are big television markets involved in this year's Series. Dallas is the fifth-largest in the United States and San Francisco is No. 6, according to Nielsen.
Through two games, this year's Series is averaging an 8.7 rating and 14.6-million. The rating is down 25 per cent from the 11.6 average after the second game last year.
Game Photos
of the 2010 MLB World Series

Click a photo to link to a page on our website. Links are found on nearly all Web pages.
Links allow users to click their way from page to page. You will find thousands of links on this website...


To all Visitors
This site has been developed not just to sell
Antiques
and
Collectibles
(of course it does some of that) rather it is to provide information about Antiques, Collectibles,
artwork
,
art pottery
,
furniture types
,
furniture styles
,
jewelry
, and
militaria
from the
Revolutionary War
to the
Vietnam War
. This site is all about information and history that is not readily available elsewhere on the Internet. We think West St Paul Antiques is one of the best Antique Malls in the State of Minnesota and we have been working hard to create that excellence for the last 12 years. We have expertise on
Antiques
&
Collectibles
and as we read and study about history and antiques we also strive to be historians. We will share that expertise with you and all the visitors to our site. Stop by and visit our Antique Mall in West St Paul, Minnesota. Or, you are all welcome to visit us on the web.
This is a new website for us at West St Paul Antiques. We hope you enjoy the site. Please feel free to email me directly at
floydruggles@weststpaulantiques.com
if you have any questions or feedback about this site. Please sign our
guest book
and check out our
Poetry Coffee Cup Cafe
, or the
Out and About Gallery
. The
Reference Library
and all 5
Museums
are open to you 24/7 on this website. Stop by one of the
1st Recon Battalion
pages where you can read about my experiences in Vietnam. Oh, by the way, also check out all our
Antiques
,
Collectibles
,
artwork
,
art pottery
,
clocks
,
mall specials
,
furniture
types
and
styles
,
jewelry
and
militaria
items for sale on this site and in our Antique Mall. Check it out by going to
Antique Mall Tour
. This site will be totally commercial free with no fees to pay. I'll be working on this site over time so bear with me. It should be finished by the end of 2010 with over 500 pages at that time and 900 pages by the end of next year.
Click here to go to our web
Site Map and Categories
.
Click a NEW link
To browse our Home page
,
Look over our Museums
,
1st Reconnaissance Battalion pages
,
Recon Photo Gallery
,
Out and About Gallery
,
Poetry Coffee Cup Cafe
,
About Us
, Christmas Index, Antique Mall Tour, Albrook,
Antiques
&
Collectibles, Furniture, Jewelry, Art Pottery, Artwork, Militaria,
Contact Us
,
Hours and Directions
,
Dealers pages
,
Consignment
,
Ebay Store
,
Translate this Website
,
Our Blogs
,
Books
,
Bottles & Jars
,
China, Crystal & Glass
,
No Man Left Behind
,
Who Was Really the First President of the United States
,
Halloween pages
,
Primitives
,
Antique Photos
,
Golden Age of Country
,
Jake's Corner
,
Soldiers Walk
,
4th of July
,
Legend of the Ground Hog's Day
,
Rush Act
,
Mayfly
,
San Antonio Riverwalk
,
Oklahoma City Bombing
,
Recon Reunion Gallery
,
Willow
,
State Capitols
,
Our Family & Friends
,
The Alamo
,
50 States & Cities
,
Stories & Poems
,
God Bless America
,
21 Gun Salute
,
Music from WW2
,
USMC Museum
,
The Day Eagle Cried
,
Financial Tip of the Year
,
Como Park
&
Remembering The 50's & 60's Music Index
.
or
Go to the top of each page of our website for the menu bar of categories. You will see a drop down menu appear for each category. Click a link to browse or click our

Site Map and Categories to find your link.


An award-winning Antique Mall - from our 1st year in 1998 to the present
Shop Where the Dealers Shop!