Joseph John Jones
Sergeant
PERSONAL DATA
  Home of Record: Scotland Neck, North Carolina
  Date of birth:  Sunday, 10/13/1946

MILITARY DATA
  Service:        Marine Corps (Regular)
  Grade at loss:  E5
  Rank:           Sergeant
  ID No:          2147920  
  MOS:            0311 Rifleman
  LenSvc:         Between 3 and 4 years
  Unit:           1ST PLT, B CO, 1ST RECON BN, 1ST MARDIV

CASUALTY DATA
  Start Tour:     Monday, 12/19/1966
  Cas Date:       Wednesday, 07/03/1968
  Age at Loss:    21
  Remains:        Body recovered
  Location:       Quang Nam, South Vietnam
  Type:           Hostile, died outright
  Reason:         Air loss or crash over land - Helicopter - Noncrew

ON THE WALL       Panel 53W Line 002




Joseph John Jones
A Note from The Virtual Wall
From the Marine Air Group 16 Chronology for July 1968:
"A reconnaissance team which had just been inserted at ZC 064864 came under heavy attack as the helicopter departed. With complete disregard for his own safety Captain LITTLER (pilot) turned back into the zone to extract the recon team. At about 100 feet above the zone, the CH-46A (YT-13) piloted by Captain LITTLER was taken under intensive automatic weapons and possibly RPG fire. The helicopter caught fire in the aft transmission area and at the same time the pilot and the copilot were hit in the neck by small arms fire. Out of control, the aircraft crashed to the ground on top of the eight man recon team that the crew had so heroically tried to save. All 8 members of the recon team were killed as well as the four crewmembers in the aircraft and one recon man in the aircraft."
The thirteen men were
Aircrewmen from HMM-164, MAG-16, 1st MAW

Capt James L. Littler, Honolulu, HI
1stLt Raymond C. Daley, Dover, NH
SSgt John C. Bilenski, Clifton, NJ
Cpl Randell B. Little, River Rouge, MI

B Company, 1st Recon Bn, 1st MarDiv

Capt John D. Dalhouse, Montgomery, AL (aboard the helo)
Sgt Joseph J. Jones, Scotland Neck, NC (Silver Star)
Cpl William D. Johnson, Kokomo, IN (Silver Star)
Cpl Gary D. Tisdall, Modesto, CA
Cpl Sherman D. Vance, West Point, IL
LCpl William C. Moon, Joliet, IL
LCpl Paul Scheckler, Huntingdon Valley, PA
LCpl Fay C. Simmons, Cayce, SC
PFC Alton House, Walstonburg, NC
---

A month earlier, on 26 May 1968, Sergeant Jones led Patrol Team "Panama Hat" on a patrol in Quang Nam Province. The team, consisting of eight men, was inserted by CH-46 at YC988437 on the morning of the 26th; their mission was to conduct roving observation and surveillance. The post-patrol report contains the following description of what happened:
"281215H [12:15 PM, 28 May] YC988430: The team was moving west on a ridgeline when they received approx 30 grenades and heavy small arms fire from an unknown number of VC on the top of a cliff above them. The initial action resulted in 1 USMC KIA, 3 USMC WIA, 3 USMC MIA, and 1 USN MIA. The 4 MIA had either jumped or been blown over a cliff, and their casualty status was initially unknown. At 281730H the 3 USMC WIA whose posit was known were extracted. This included the patrol leader. The KIA was not extracted due to inaccessibility and the tactical situation. On the following day, 291425H, the 4 MIA were located by the patrol leader and 1 other USMC enlisted, who were lowered into the area by hoist. The 4 MIA were discovered to be WIA med-evacs. The 2 man team then attempted to recover the body of the USMC KIA, but the mission was aborted when the CH-46B received heavy automatic weapons fire. A 20 man reaction force inserted on 30 May was unable to locate the USMC KIA, even though led by the patrol leader. Final results of this action were 1 USMC KIA, 5 USMC WIA, and 1 USN WIA."
One should note that Sergeant Jones, although wounded, went in the next day accompanied by a single Marine, located and medevaced the four missing men, and then tried to recover the body of his teammate LCpl Joseph Arnold Hill. When that effort failed, he went in again with the reaction force on the 30th. Sadly, LCpl Hill's body could not be found ... but it certainly wasn't due to any lack of effort on Sergeant Jones's part!


---

On 23 June 1968 Sergeant Jones accompanied Recon Team ALDBROOK, which consisted of 14 men led by a Corporal Thompson. RT ALDBROOK was inserted in the mountains 13 kilometers south of An Hoa airfield. Although the team had sporadic contacts over the next several days, they avoided the enemy until the night of 28 June. From the post-patrol report:
"282030H - AT882348 - 100 VC attacking patrol's position. Rifles, grenades, and satchel charges. VC came from the south, north, and east. Patrol called [artillery] fire mission and utilized [helicopter] gunships and SPOOKY [AC-47 gunship], resulting in 9 VC KIA confirmed"
The attack had another result - RT ALDBROOK was withdrawn at first light. The 16 Marines all survived the fight and none were seriously wounded. This is the action described in Sergeant Jones's Silver Star Citation.


---
JJ Jones is remembered by his comrades in the
1st Recon Battalion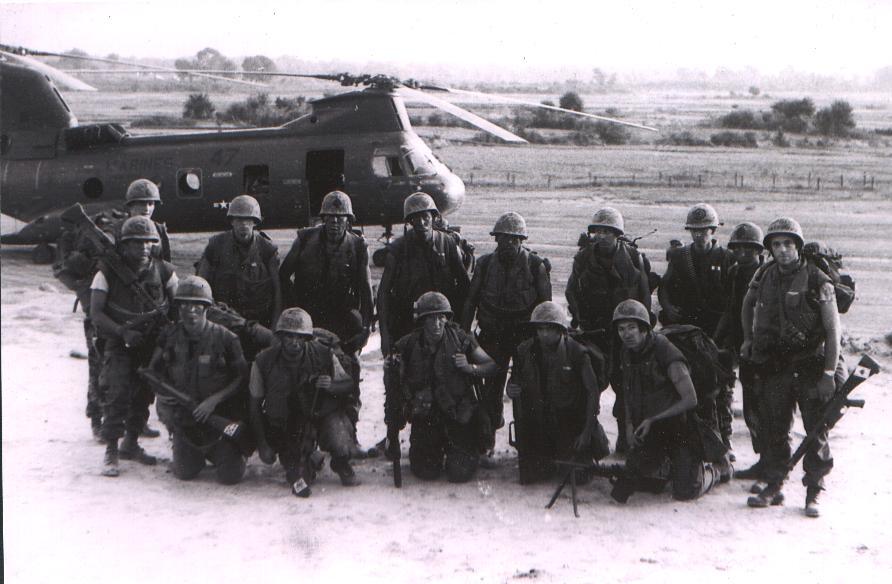 1st Platoon Bravo Co
Silver Star Awarded Posthumously To Sgt. Jones, Scotland Neck Marine
SCOTLAND NECK - A Scotland Neck Marine has won a Silver Star, awarded posthumously. The Nation's third highest combat medal, the Silver Star, posthumously awarded to a Marine Sergeant by the President of the United States, was presented to the Marine's parents by Major L. R. Stargel, inspector-instructor of the Marine Corps Reserve Unit, Raleigh. Mr. and Mrs. Cyrus M. Jones, Route 1, Scotland Neck, accepted the award to their son, Sergeant Joseph J. Jones.
Sergeant Jones was cited for conspicuous gallantry and intrepidity in action while serving as Platoon Sergeant with Company B, First Reconnaissance Battalion, First Marine Division in connection with operations against insurgent communist (Viet Cong) forces in the Republic of Vietnam. On 23 June 1968, Sergeant Jones was patrol leader of a sixteen-man patrol assigned to conduct reconnaissance and surveillance operations from an observation post on Hill 344 in Quang Nam Province.
According to his citation, "during the night and early morning hours of 24 and 26 June, his unit's defensive perimeter came under repeated attacks by numerically superior enemy forces. Throughout each attack, he skillfully deployed his men, directed their fire and effectively employed claymore mines, artillery and air strikes to repulse the attackers."
"When the observation post came under attack by over 190 hostile soldiers on the night of 28 June, Sergeant Jones completely disregarded his own safety and boldly stood up in the center of the perimeter utilizing a strobe light and a radio to direct the fire of supporting armed helicopters. As the enemy breached the protective wire with satchel charges and thermite grenades, he quickly rallied his men and directed supporting fire to within ten meters of his position.
"Continuing his determined efforts, he effectively utilized illumination flares and machine gun fire of additional supporting aircraft around his position and requested artillery fire on avenues of approach and areas from which the patrol was receiving fire. Throughout, he repeatedly exposed himself to enemy fire as he moved to each Marine's position to encourage him, redistribute ammunition and assess the tactical situation.
By his courage, bold initiative and selfless devotion to duty in the face of extreme peril, Sergeant Jones inspired all who observed him," the citation concluded.
Sergeant Jones enlisted in the Marine Corps in June 1965 and went to Vietnam in December 1966. He died on July 3, 1968 in Quang Nam Province, Republic of Vietnam, as a result of third degree burns to his entire body, sustained when the helicopter he was riding in was shot down by hostile ground fire.
Previous awards, presented to his parents, included the Purple Heart Medal with two gold stars in lieu of a second and third Purple Heart, the Good Conduct Medal, the National Defense Service Medal, the Vietnam Service Medal and the Vietnam Campaign Medal.
| | | |
| --- | --- | --- |
| | Coming Soon | |