THE MEMORIAL
Oklahoma City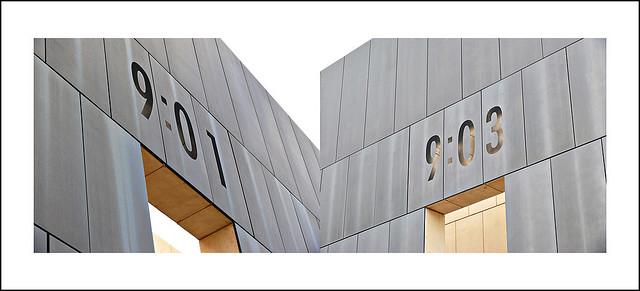 Monumental twin bronze gates frame the moment of destruction - 9:02 - and mark the formal entrances to the Outdoor Memorial. 9:01, found on the eastern gate, represents the last moments of peace, while its opposite on the western gate, 9:03, represents the first moments of recovery.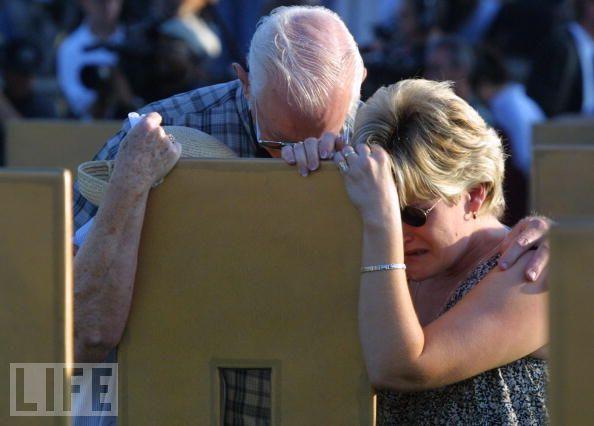 Renee Pendley reacts to hearing the news that Timothy McVeigh is dead June 11, 2001 at the memorial chair of her best friend, Teresa Lauderdale, while visiting the Oklahoma City National Memorial in downtown Oklahoma City, Oklahoma.

The Memorial Museum provides a powerful experience for all visitors as it takes them through the day of April 19, 1995, and those that followed. Visitors leave with a complete understanding of the impact of violence, and a sense of hope and resilience for the future. This tour highlights the Memorial Museum's Gallery of Honor, which pays tribute to the 168 who were killed. Click the photo for your virtual tours.
A Look at Numbers



Murrah Building Bombing – A Look at Numbers

* 168 People Killed
* 19 Children Killed
* 1 Rescuer Killed (Rebecca Anderson)
* 850 People Injured
* 85 Rescuers Suffered Minor Injuries
* 30 Children Orphaned
* 219 Children Lost at Least One Parent
* 462 People Left Homeless
* 7,000 People Left Without a Workplace
* 12,384 Volunteers and Rescue Workers Participated in Rescue, Recovery and Support.
* 387,000 Estimated number of people in Oklahoma City who knew someone killed or injured in the bombing (more than a third of the population).
* 190,000 Estimated people in Oklahoma City who attended funerals for bombing victims (19% of the population).
* 168 children eligible for scholarship money from bombing funds raised by Governor Frank Keating, Oklahoma State Regents for Higher Education and Federal Employees . . . $8.9 million.
* 123 Children have already received scholarship money. Over 300 Buildings Were Damaged or Destroyed More Than 1000 People Survived
Locations of Deaths and Injuries
Alfred P. Murrah Federal Building
(361 total occupants on April 19, 1995)
163 deaths
118 workers
15 children in Day Care
4 children visitors
26 adult visitors
166 injured
Journal Record Building
(303 total occupants on April 19, 1995)
0 deaths
126 injured
YMCA Building
(164 total occupants on April 19, 1995)
0 deaths
77 injured
Water Resources Board Building
(65 total occupants on April 19, 1995)
2 deaths
39 injured
Athenian Building
(5 total occupants on April 19, 1995)
1 death
4 injured
Outside near the blast
1 death
167 injuries occurred in other buildings near the blast
60 injuries occurred out of doors
Search & Rescue Operation
1 death
Government Employees
98 of those killed and 140 injured were federal government employees 3 of those killed and 126 injured were state government employees

To all Visitors
This site has been developed not just to sell
Antiques
and
Collectibles
(of course it does some of that) rather it is to provide information about Antiques, Collectibles,
artwork
,
art pottery
,
furniture types
,
furniture styles
,
jewelry
, and
militaria
from the
Revolutionary War
to the
Vietnam War
. This site is all about information and history that is not readily available elsewhere on the Internet. We think West St Paul Antiques is one of the best Antique Malls in the State of Minnesota and we have been working hard to create that excellence for the last 12 years. We have expertise on
Antiques
&
Collectibles
and as we read and study about history and antiques we also strive to be historians. We will share that expertise with you and all the visitors to our site. Stop by and visit our Antique Mall in West St Paul, Minnesota. Or, you are all welcome to visit us on the web.
This is a new website for us at West St Paul Antiques. We hope you enjoy the site. Please feel free to email me directly at
floydruggles@weststpaulantiques.com
if you have any questions or feedback about this site. Please sign our
guest book
and check out our
Poetry Coffee Cup Cafe
, or the
Out and About Gallery
. The
Reference Library
and all 5
Museums
are open to you 24/7 on this website. Stop by one of the
1st Recon Battalion
pages where you can read about my experiences in Vietnam. Oh, by the way, also check out all our
Antiques
,
Collectibles
,
artwork
,
art pottery
,
clocks
,
mall specials
,
furniture
types
and
styles
,
jewelry
and
militaria
items for sale on this site and in our Antique Mall. Check it out by going to
Antique Mall Tour
. This site will be totally commercial free with no fees to pay. I'll be working on this site over time so bear with me. It should be finished by the end of 2010 with over 500 pages at that time and 900 pages by the end of next year.
Click here to go to our web
Site Map and Categories
.
Click a NEW link
To browse our Home page
,
Look over our Museums
,
1st Reconnaissance Battalion pages
,
Recon Photo Gallery
,
Out and About Gallery
,
Poetry Coffee Cup Cafe
,
About Us
, Christmas Index, Antique Mall Tour, Albrook,
Antiques
&
Collectibles, Furniture, Jewelry, Art Pottery, Artwork, Militaria,
Contact Us
,
Hours and Directions
,
Dealers pages
,
Consignment
,
Ebay Store
,
Translate this Website
,
Our Blogs
,
Books
,
Bottles & Jars
,
China, Crystal & Glass
,
No Man Left Behind
,
Who Was Really the First President of the United States
,
Halloween pages
,
Primitives
,
Antique Photos
,
Golden Age of Country
,
Jake's Corner
,
Soldiers Walk
,
4th of July
,
Legend of the Ground Hog's Day
,
Rush Act
,
Mayfly
,
San Antonio Riverwalk
,
Oklahoma City Bombing
,
Recon Reunion Gallery
,
Willow
,
State Capitols
,
Our Family & Friends
,
The Alamo
,
50 States & Cities
,
Stories & Poems
,
God Bless America
,
21 Gun Salute
,
Music from WW2
,
USMC Museum
,
The Day Eagle Cried
,
Financial Tip of the Year
,
Como Park
&
Remembering The 50's & 60's Music Index
.
or
Go to the top of each page of our website for the menu bar of categories. You will see a drop down menu appear for each category. Click a link to browse or click our

Site Map and Categories to find your link.


An award-winning Antique Mall - from our 1st year in 1998 to the present
Shop Where the Dealers Shop!