Ralph Henry Johnson
Private First Class

PERSONAL DATA
  Home of Record: Charleston, South Carolina
  Date of birth:  Tuesday, 01/11/1949

MILITARY DATA
  Service:        Marine Corps (Regular)
  Grade at loss:  E2
  Rank:           Private First Class
  ID No:          2356797  
  MOS:            0311 Rifleman
  LenSvc:         Less than one year
  Unit:           A CO, 1ST RECON BN, 1ST MARDIV

CASUALTY DATA
  Start Tour:     Monday, 01/01/1968
  Cas Date:       Tuesday, 03/05/1968
  Age at Loss:    19
  Remains:        Body recovered
  Location:       Quang Nam, South Vietnam
  Type:           Hostile, died outright
  Reason:         Other explosive device - Ground casualty

ON THE WALL       Panel 43E Line 008




Ralph Henry Johnson
Quan Duc Duc Valley
deep in enemy controlled territory
| | | |
| --- | --- | --- |
| | PRIVATE FIRST CLASS RALPH H. JOHNSON | |
The President of the United States
in the name of the Congress of the United States
takes pride in presenting the
MEDAL OF HONOR
posthumously to
RALPH HENRY JOHNSON
Private First Class
United States Marine Corps

for service as set forth in the following
CITATION:
For conspicuous gallantry and intrepidity at the risk of his life above and beyond the call of duty while serving as a reconnaissance scout with Company A, in action against the North Vietnamese Army and Viet Cong forces. In the early morning hours during Operation ROCK, PFC Johnson was a member of a 15-man reconnaissance patrol manning an observation post on Hill 146 overlooking the Quan Duc Valley deep in enemy controlled territory. They were attacked by a platoon-size hostile force employing automatic weapons, satchel charges and hand grenades. Suddenly, a hand grenade landed in the 3-man fighting hole occupied by PFC Johnson and 2 fellow marines. Realizing the inherent danger to his 2 comrades, he shouted a warning and unhesitatingly hurled himself upon the explosive device. When the grenade exploded, PFC Johnson absorbed the tremendous impact of the blast and was killed instantly. His prompt and heroic act saved the life of 1 marine at the cost of his life and undoubtedly prevented the enemy from penetrating his sector of the patrol's perimeter. PFC Johnson's courage, inspiring valor and selfless devotion to duty were in keeping with the highest traditions of the Marine Corps and the United States Naval Service. He gallantly gave his life for his country.
Ralph H. Johnson, who was posthumously awarded the Medal of Honor for heroism in Vietnam in March 1968, was born 11 January 1949, in Charleston, South Carolina. He attended Sinemonton Elementary School and Courtnay Elementary School in Charleston.
He enlisted in the U.S. Marine Corps Reserve at Oakland, California, 23 March 1967, and was discharged to enlist in the regular Marine Corps, 2 July 1967.
Upon completion of recruit training with the 1st Recruit Training Battalion, Recruit Training Regiment, Marine Corps Recruit Depot, San Diego, California, in September 1967, he was transferred to the Marine Corps Base, Camp Pendleton, California. He underwent individual combat training with Company Y, 3d Battalion, 2d Infantry Regiment, and basic infantry training with the Basic Infantry Training Company, 2d Infantry Training Regiment, completing the latter in November 1967. He was promoted to private first class, 1 November 1967.
In January 1968, he arrived in the Republic of Vietnam, and served as a reconnaissance scout with Company A, 1st Reconnaissance Battalion, 1st Marine Division. On 5 March 1968, while on Operation Rock, deep in enemy-held territory near the Quan Duc Duc Valley, he was killed in action.
A complete list of his medals and decorations includes: the Medal of Honor, the Purple Heart, the National Defense Service Medal, the Vietnam Service Medal with two bronze stars, the Vietnamese Cross of Gallantry with Palm, the Vietnamese Military Merit Medal, and the Republic of Vietnam Campaign Medal.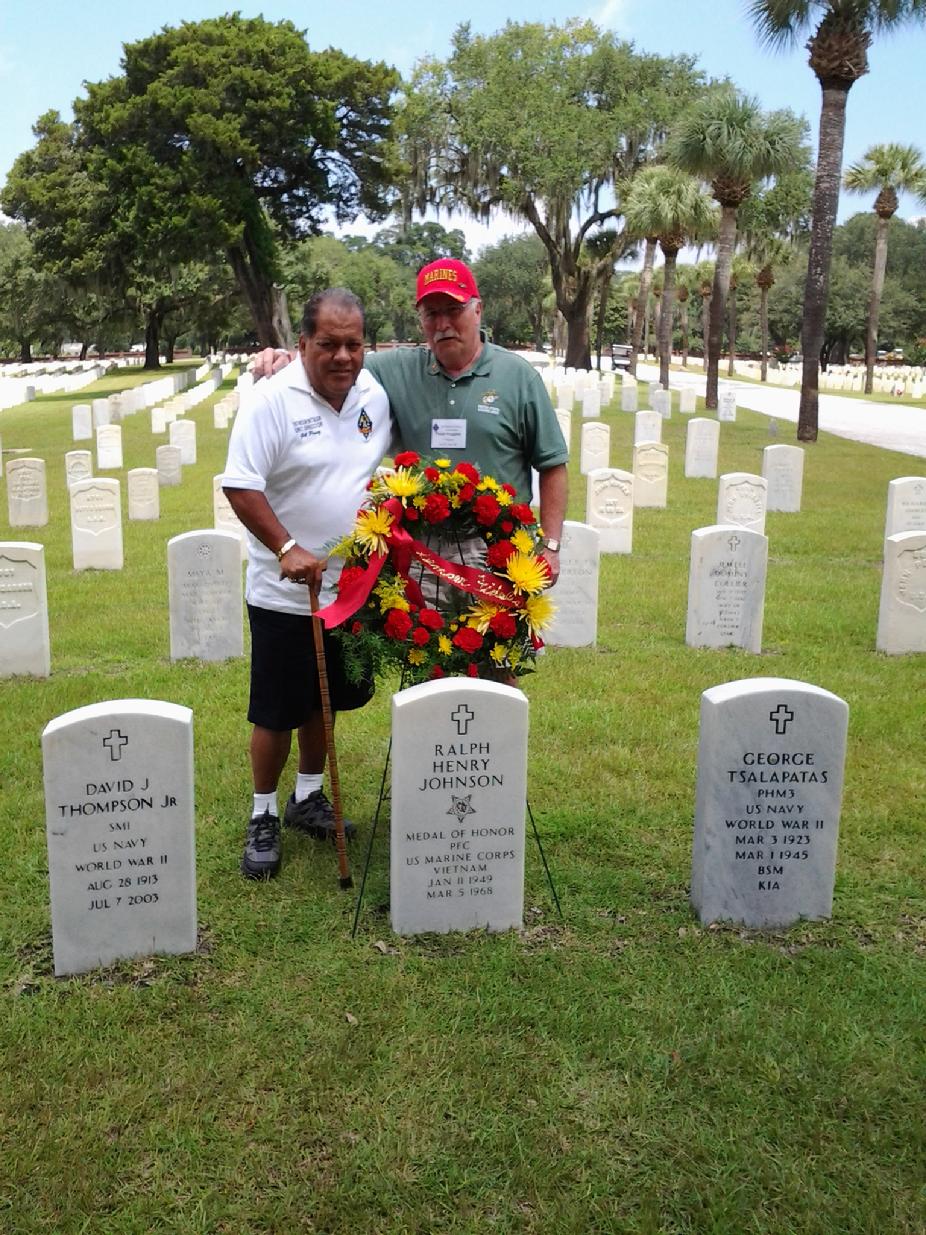 August 2014
A Note from The Virtual Wall
The recon patrol, named "TEXAS PETE", consisted of 15 men - the patrol leader, Lt McClary; twelve Recon Marines; a combat engineer; and a Corpsman. They departed Landing Zone FINCH at 10 AM on 02 March by CH-46 helicopter with an expected return date of 07 March. TEXAS PETE's observation post was established on "an almost bare hilltop with low scrub brush. The slopes of the hill are terraced."

Between 1745 02 March and sundown on 04 March the patrol sighted NVA/VC troops on 12 occasions, directing artillery fire on the enemy on each occasion. The post-patrol report, contained in the 1st Recon Bn's Command Chronology for March 1968, includes the following description of the attack which began at 12:45 AM on 05 March:
"050045H AT823453 - 15 VC attacking patrol's position. VC fired 4 rockets of unknown type which overshot the patrol's position by 200 meters. Patrol then began to take grenades and a/w fire. VC assaulted the position and planted a red and blue flag with a star 10 meters from the patrol's position. Patrol returned fire and utilized SPOOKY [Note: AC-47 gunship]. Patrol was extracted. Action resulted in 1 VC KIA conf, 2 USMC KIA, and 4 USMC WIA."
The dead were Pfc Johnson and Pfc Thomas E. Jennings of Lancaster, Pennsylvania.

| | | |
| --- | --- | --- |
| | Coming Soon | |
| | | |
| --- | --- | --- |
| 1st Recon Bn.com Photo Gallery | | 1st Recon Bn.com Photo Gallery |