North High School
Class of 1966







Bonita R. (Quam) "Bonni" Saice
| | |
| --- | --- |
| | Ernie & Bonita Saice |
Some of us aren't quite 70 yet. A group of the babies from the Class of 66
May 7th, 2016
I feel so very blessed at the outpouring of support and love from our family and the multitude of Ernie, my, and my kids friends! I am overwhelmed by the hugs and numbers of friends and family that shared our sorrow both Wednesday night and Thursday. I know I didn't get to spend much time or none at all with some of you, but both Ernie and I felt your presence and support. I want to thank each and everyone of you from the bottom of my heart for your love and friendship to
Ernie. He was a very special person and I know he felt love for each and every one of you. It was so special to see friends I worked with what seems so very long ago. Thank you Stevie, Linda, Jay, Barb, and Mike. I wish we could have spent more time together, as with so many long time friends from high school. Each of you have been a special part of Ernie's journey through this short life of his. David, my brother, thank you for the beautiful pipe ceremony and Leyla your eulogy was beyond beautiful as was the one our very dear son Brian gave at the funeral on Thursday. I will miss Ernie more than I can imagine, but my kids, grandkids, friends, and family have been my strength this past week and I know they will continue to love and support me through my grief. My beautiful niece (second daughter) Lisa has sent me inspiration daily. Please know that each of you have touched my heart and I am eternally grateful. Our cancer journey was shared by many and I know many prayers were prayed for Ernie. Thank you one and all!
Biography
Bonita R. (Quam) "Bonni" Saice

Last Update

5/20/20




Status

Located

Location

Lives in Brooklyn Park, Minnesota &

Clear Lake, Minnesota

Email

Personal Website

Click Here

Business Website

Photo Website

Birthday

December 8, 1948

Spouse/Partner

Married since September 18, 1967

Children

Coalee Saice-Carlson,

Daughter,

Paul Saice, Son

& Jeff Saice, Son

Josh Carlson,

Grandson - Sydney Saice, Granddaughter & Tierney Saice, Granddaughter

Employer

Former manager, project and program managers at Qwest Communications

July 11, 1966 to December 1, 2005

Facebook

Biography

Studied Business Management and received a Masters Certificate in Program mgmt at Norh Hennepin and Denver University




Moved to Clear Lake, Minnesota

Left Job at Qwest Communications

Ernie Saice and Bonni Saice Got Married

with Bonni Saice

Started Working at Qwest Communications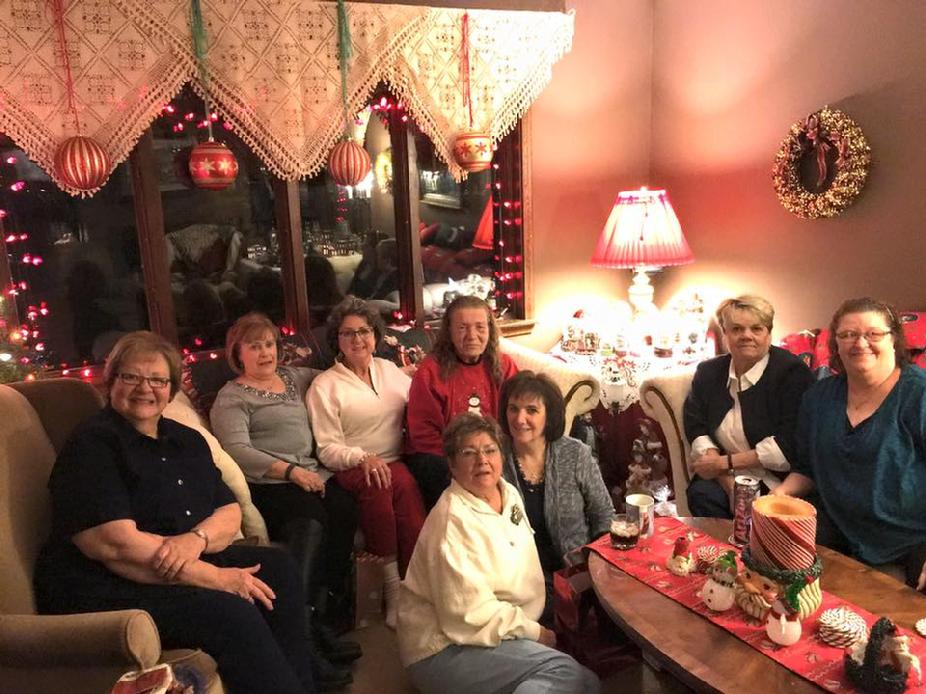 Dec. 2015 - left to right Paula Trasmer Lang, Bonni Quam Saice, Carmen O'Brien Rettke, Sue Berkypile Heck, Donna Merchant Leighton, Linda Wagner Calistro, on the floor Joan Hill Duoss and Mary Earley Oliver...
September 18th, 2016
Bonni Saice
Today would have been our 49th wedding anniversary. We got married 10 days before Ernie left for Viet Nam. We were young, but so in love. I miss you so much especially today! I thought I would share some of our wedding pictures. You may recognize some of my friends whom I posted pictures of at our 50 year class reunion. Corona bought my flowers and Carmen caught the bouquet!
Click to enlarge photos...
Bonni Saice - May 14th, 2016 Yesterday was very bittersweet. Jeff drove our car to pick Josh and all his stuff up from college. Ernie and I had driven this route several times driving Josh to and from college, so it was a very sad day without him. We also went to Duluth to visit Jeremy to drop off his eagle feather remembrance! Coalee, Brian, and I are very happy their first born is home for the summer. Each day is still hard to get through without a good cry, but so many friends and family keep reaching out to give me inspiration and strength, it is very touching!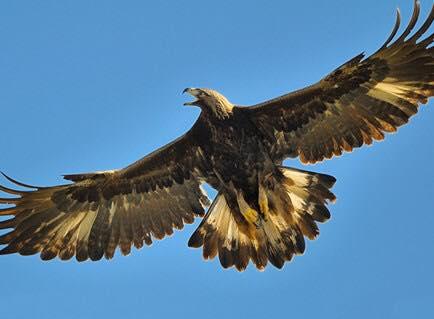 Today driving up to Jenkins, MN for Tom Lange's celebration of life ceremony, Paul and I saw a golden eagle flying above us. He was low enough for me to see his golden wing feathers. The first eagle I have been able to really see. Then shortly after leaving Jenkins, Paul says there's two osprey and not 2 minutes later a bald eagle practically flew at us so low that it looked as if it was looking right at me. I have never seen an eagle that close. I really think Ernie was trying to get my attention since I have probably been missing other signs, at least that is my hope. I pray he is telling me he is free of pain now and soaring on high! 5-14-2016
Bonita R. (Quam) "Bonni" Saice Time Line Photos
Ernie & Bonni
Married Since September 18th, 1967
| | |
| --- | --- |
| Here's a throw back picture from our Senior Prom, with Terry and Corona Wolf. Sandy Miezwa had this picture! | Our wedding photo. Hard to believe it will be 49 years ago in September! |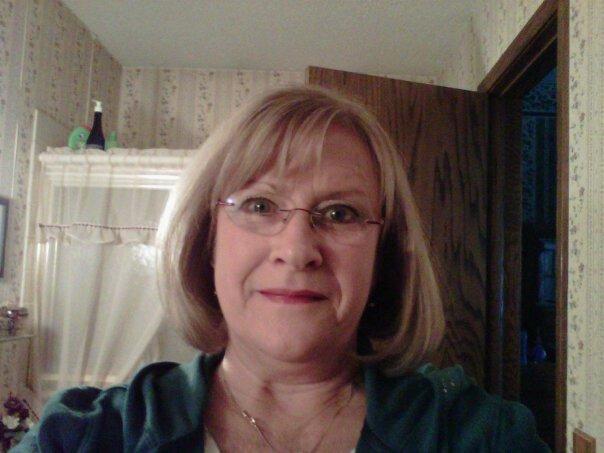 Bonni Saice
Click to enlarge photos...
The younger cousins, Scott Carlson, Brian Carlson, Nancy Osberg Schneider, Coalee Saice-Carlson & Wil Carlson.
Not sure how I ever forgot how long we were married. It would have been 49 years in September, but we met when we were 15 years old so we have been together for 53 years. As my sister Eileen puts it we grew up together! I was with Ernie longer than I spent with my own family. He blessed me with three great children and six very beautiful grandchildren. He is loved by so many it is overwhelming to me that I was blessed with such a great man. I just wish he hadn't suffered so much these past couple of months. I wanted a miracle, but I guess he was tired and needed to go to his heavenly home! I know he will be missed by his entire family and all of those of you he called his friend. I always chuckled when he spoke with one of you on he phone, and he always called you his buddy. He loved his friends as much as he loved his family.
He is a good man with a kind soul. He would Always do anything for you. Thank you in advance for your prayers.
| | |
| --- | --- |
| Coalee Saice-Carlson - August 20, 2014 | 12/2015 Ernie Saice and Jeff Saice at Coborns Cancer Center. |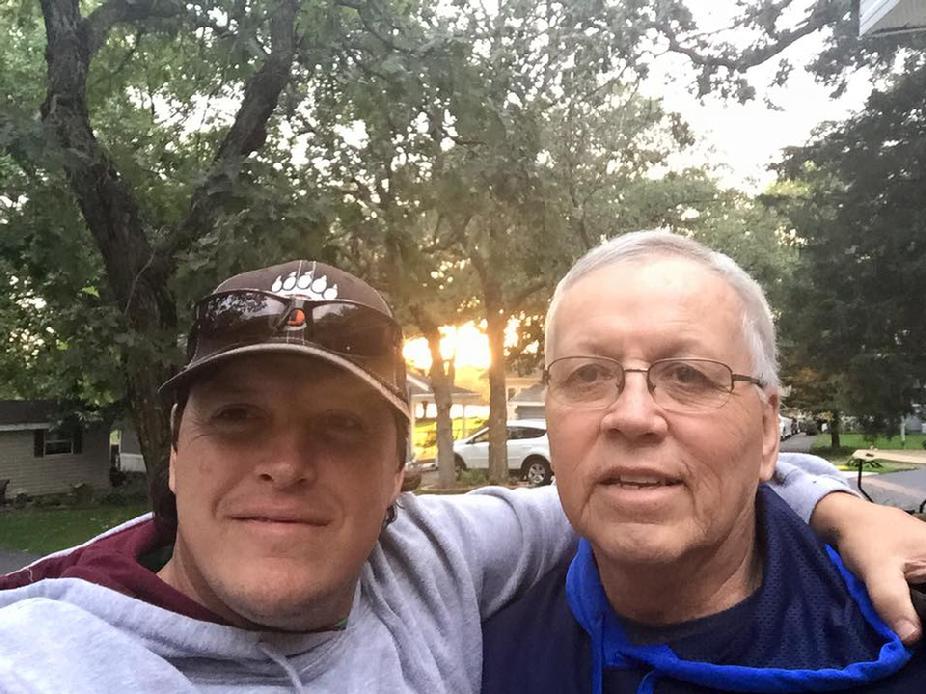 August 23, 2015 Sunset at the park with son Paul Saice.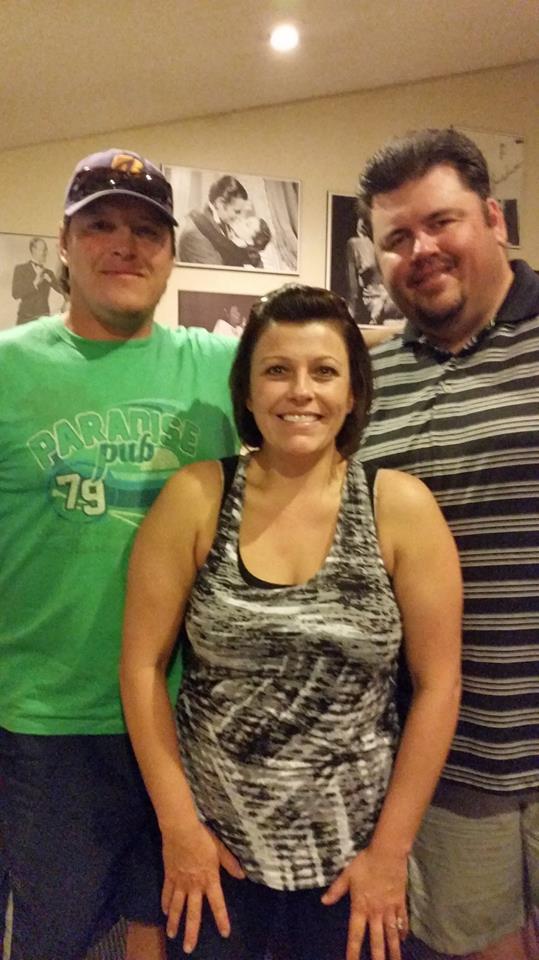 Paul, Coalee & Jeff - August 22, 2015
"Have you ever been punched?"
 Have you ever been punched So hard that you felt winded?
The day we found out Was a punch so deep,
That I felt constantly winded from that day.


But it was almost like I'd been waiting for this day.
 We're all bound to get bad news one day, 

So mine was finally here.


"My dad has cancer"
 It sounded so foreign every time I said it out loud.


Were we lucky to know? To have a warning?
A reminder about the one fact that we all know is guaranteed.


That we can't all be here forever.
So now we know that death is maybe on his doorstep.
Sooner than we expected I'm still numb, still winded
But strangely, I feel grateful That we've had a warning, 

a reminder.


So thank you Whoever you are For that deep deep punch...


TODAY IS A GIFT
with 

Ernie Saice!
TODAY IS A GIFT
Many people will walk in and out of your life,
But only true friends will leave footprints in your heart
To handle yourself, use your head;
To handle others, use your heart.
Anger is only one letter short of danger.
If someone betrays you twice, it is your fault
Great minds discuss events;
Small minds discuss people.
He who loses money, loses much;
He who loses a friend, loses much more;
He who loses faith, loses all.
Beautiful old people are works of art.
Learn from the mistakes of others
You can't live long enough to make them all yourself.
Friends, you and me ...
You brought another friend ... and we started our
group ...
our circle of friends ...
and like a circle ... there is no
beginning or end ... Yesterday is history.
Tomorrow is mystery.
No one really knows
by Pati, Bullrun Rosenberg, Tx
"No one really knows
What kind of bond we share
And even if I told them
They probably wouldn't care
You are very dear to me
I hope you know it's true
And now that you are sick
Tell me what that I should do?
While you've been gone
A part of me has been lost
It's like I've taken our friendship for granted
And now I'm paying the cost
I never knew how much you meant to me until you went away
The thought of you being really sick
Haunted me every day
I spent a few days at school alone and my weekend was such a bore
A lot of my time was spent in my room
I think my mom's ready to break down the door
And now I make this vow to you to keep until the end
I'll help you through the pain and tears
Until our rivers bend
So if you ever need someone
You know just who to call
I'll be here by the phone
To catch you if you fall "
My siblings minus my oldest sister Kathryn (Connie) at My beautiful niece Lisa's wedding. My brother Loren in the wheel chair is no longer with us either.
Ernie Saice 1968
March 22, 2016

This is a very difficult post to write, as we received bad news. The cancer in Ernie's lung has grown again, and there is also a large soft tissue mass in his right pelvis toward his hip. This mass is the cause of Ernie's back and hip pain. Not sure what is causing the pain in his neck. The oncologist suggested radiation for his back pain, but that would be every day for 4 to 6 weeks. Ernie wants to go back home to see his own oncologist since he likes and trusts him to

determine what type of treatment he needs. Right now he is very weak from being in pain so long, but when he gets a little stronger I will fly him home to stay with Coalee, and fly Paul here to help me pack and drive our car home. Unfortunately, Florida did not get him stronger like last year. He really hasn't been able to do much at all since the kids went home and the cruise was over. He toughed it out until then, but has continued to get weaker each day from pain. Thanks for the prayers. Now we need a miracle!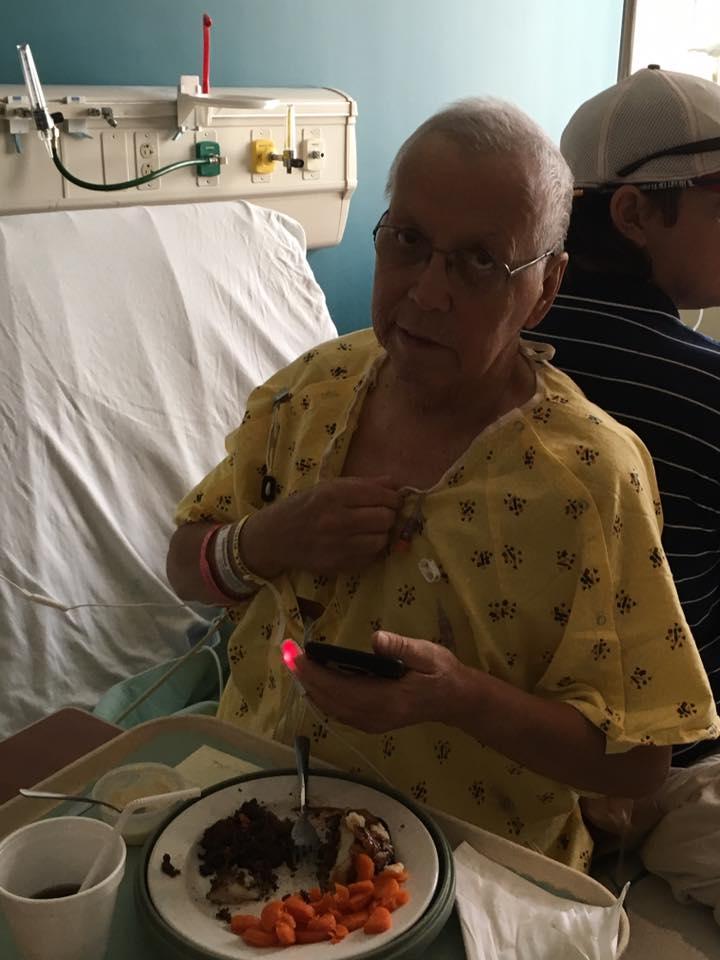 March 30th, 2016 - Ernie Saice
Today we finally have some hope in getting Ernie home! Brian and I asked the Doctor yesterday to give him steroids so he could get enough strength to get home. He had been so weak, confused and in pain it didn't look good that he would ever be strong enough to fly home.....but the steroids are working. When Paul and Jeff got here last night he was able to talk with them and get up to go to the bathroom with a walker! He was having problem swallowing so he couldn't have any fo

od or water. He had a test this morning and he can now be on a soft food diet as long as he drinks small sips of liquid with each bite. He hadn't had his brain scan yet, but was able to sit up and have his first meal today! He looks 10,000 times better today than he did yesterday! I think we got out little miracle thanks to all of your prayers and loving thoughts! Keep them coming until we are all home in Minnesota!
Sitting here with my dad and family and my Dad wanted to inform everyone that he will be reading and responding to messages when he is feeling better. He is full of fight and would like to thank everyone for your prayers, well wishes and support... Paul Saice
Bonni & Ernie Saice Facebook Page Photo...

April 8th, 2016

We arrived back in Minneapolis at about 3:00 pm yesterday. It was hard on Ernie, but we are finally home. Thanks to our special friends in Florida, Marlene and Dick Aune, and Mike and Jan Riederman for helping us close the trailer for the summer. Your help and support were very much appreciated.

We spent most of the day in St Cloud at the cancer center. The oncologist referred us to the radiation oncologist. He also is trying to keep Ernie's pain under control, so he prescribed a long lasting pain medication to take along with his pain med he takes every 4 to 5 hours. He will not give Ernie any chemo right now because he is so weak. He also ordered IV fluids to ensure Ernie isn't dehydrated again as he isn't eating or drinking much yet. They also gave him an IV medication to lower the calcium in his blood as it was high.

The radiation department also took 3D scans of his Head, neck, chest, and back. He begins radiation on Monday. They are waiting to get all of the records from the Florida radiation oncologist to determine how much more treatment he needs on his neck and head!



Barbara Vinyard Glad you are safely home. Praying that the radiation help and Ernie will feel better and stronger, also that they can get the aim under control.
Katrina Connolly Adams

Take care.
David Saice Sr

Saying Prayers him and you let me know if there is anything I can do for you guys Love you and so I soon as I Win The Lottery tomorrow I Will have a Nice Car There to take you guys were you need to go and anything else you need
Carol Rucke Glime

You entire families are blessings for each other. I'm with you in spirit. Strength. Compassion and stamina. You are all incredible.
Philomene Saice

He's back home where he needs to be. Now just let us know if you Need Anything we Will Be More than Happy to do it!
Theodore Catlin

Glad you are safely home. Please give Ernie our best! Continuing to pray for strength and healing.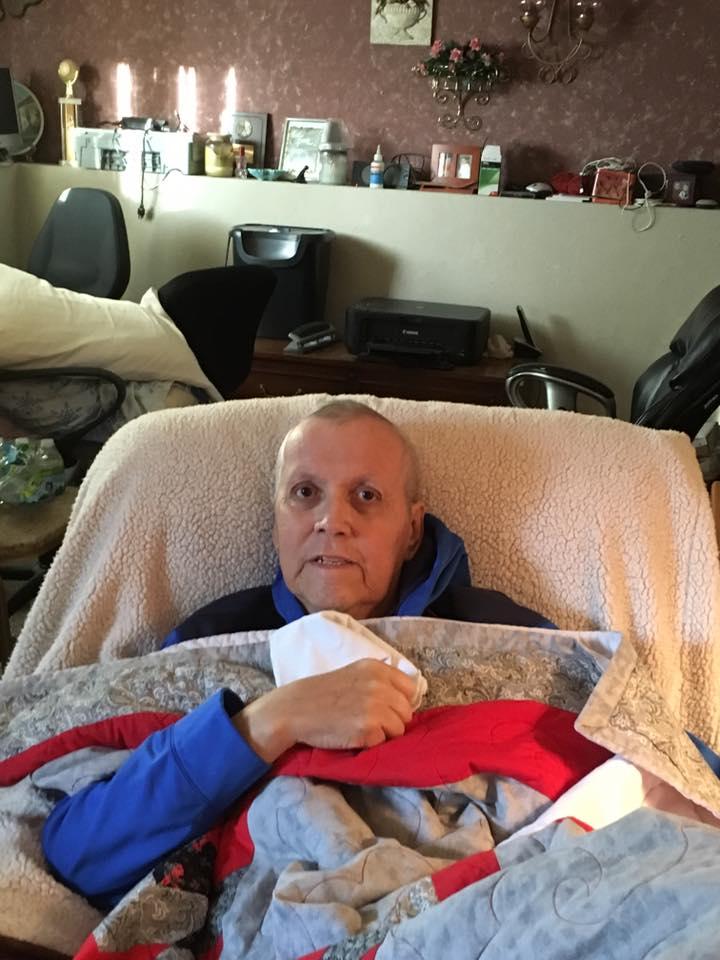 April 11th, 2016
Today was Ernie's first radiation treatment in the mass in his right pelvic area causing him the pain in his back! Radiation every day this week, but didn't ask for how many weeks. His oncologist says h's too weak for any chemo therapy so radiation is his current treatment plan. The 5 treatments to his head and massive treatment he received on his neck completed radiation on those areas for now. They are concentrated on the mass causing him his back pain. He ate dinner and had his pain medications and settled down for a nap and I asked him to smile for a picture!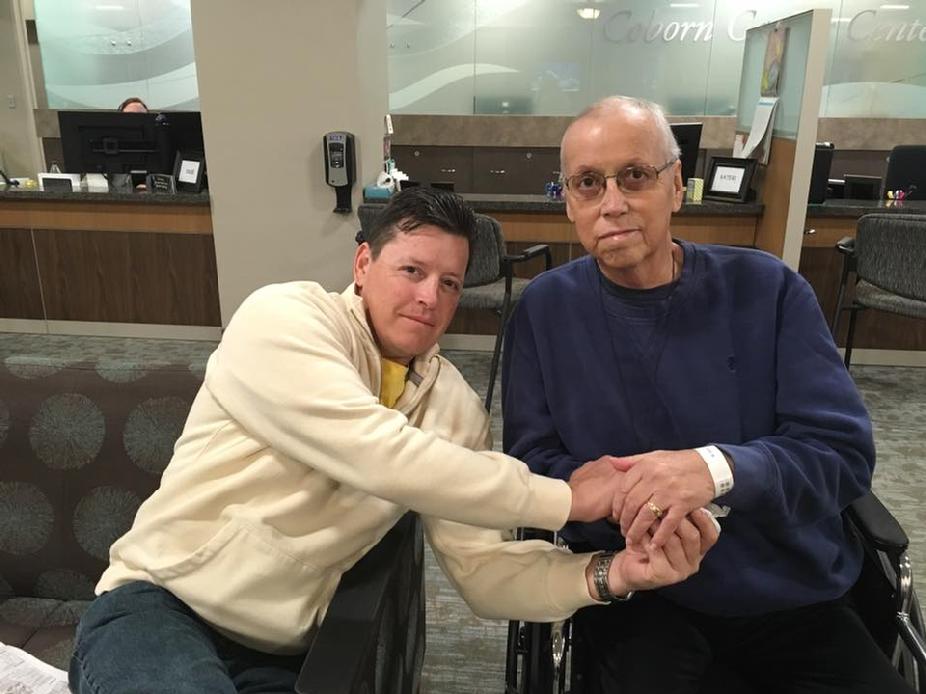 April 18th, 2016
Radiation treatment number 7. Ernie hasn't been able to eat or drink much for about 4 days complaining about a really sore throat. We saw the radiation oncologist yesterday after radiation and found out he has Thrush and of course he's dehydrated again. He now has medicine for the thrush and is receiving IV fluids today. Hopefully he is on the road to feeling better and beginning eat and drink more! He has lost a lot of weight so he needs to get his appetite back!
— with

Coalee Saice-Carlson

,

Paul Saice

and

Jeff Saice
April 20th, 2016

Had a wonderful visit with my Uncle Ernie, Aunt Bonni, & Cousin Jeff! We are wishing them and my cousins Paul & Coalee all the warmth, strength, and peace we can as my uncle undergoes this difficult time in his health. Love you all so dearly!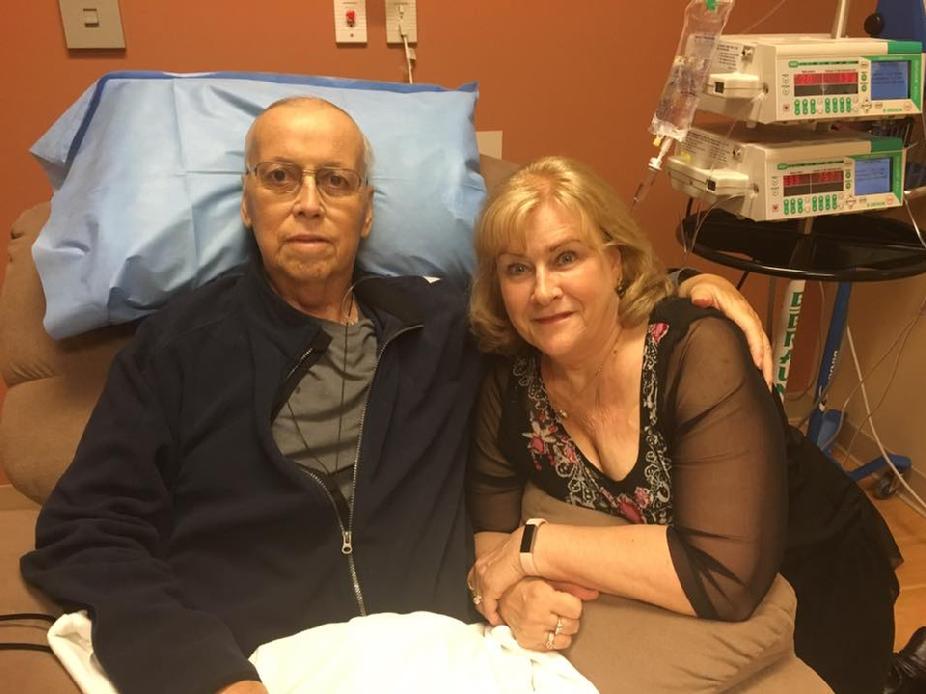 Ernie & Bonita Saice 4/22/2016
Ernie graduated today from his radiation treatments. His pain in his back and neck have finally subsided. His Thrush is getting better and he is hydrated and starting to drink and eat little by little. He sees the radiation oncologist in three weeks to ensure his pain has not returned. HIs oncologist is giving Ernie the pill form of the strong medicine he got in IV form the last three days to keep fighting the thrush. Also, he will discuss further treatment when Ernie begins eating more and getting stronger.
Bonita, The North High Class of 1966 is g

lad to hear more good news!
April 27th, 2016
Bonni Quam-Saice:

Robbinsdale, MN

Sitting at North Memorial hospital with Ernie. We brought him here in an ambulance early this morning because he was so weak and having problems breathing!
Allen Valerius

to

Bonni Saice:
Keep me updated if you can. Thanks
Bonni Saice:
I will! He is pretty sick. He is on several different antibiotics, fluids, and oxygen. Not sure is body is strong enough to fight his pneumonia and cancer.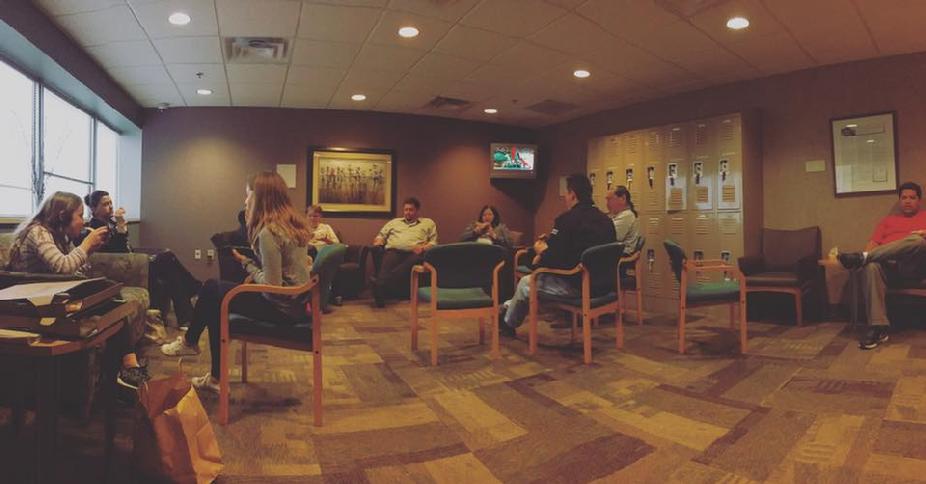 Family & friends, if you could... Please say a little prayer for my uncle Ernie Saice. Though he is surrounded by it, he is in much need of comfort and love. Even as uncomfortable as he is, was able to greet with enthusiasm, hold me, kiss me, and comfort me. He deserves rest and comfort, which I hope he is able to find a bit tonight. — at North Memorial Hospital. April 27th, 2016
Gail Saice

April 28th, 2016 - 8:30am

Boozhoo, I'm humbling asking for prayers for my Bro-in-law Ernie (David's oldest brother), Bonni his wife, and all the Saice family. (Jeff Saice, Paul Saice, Coalee Saice-Carlson, Bridget Saice-Childs, Janice Corraine, Philomene Saice, David Saice Sr. and Eileen Hudon) Ernie's fighting cancer and ended up in the hospital yesterday. His heart is so big all he thinks about is how everyone else is doing, that's the kind of guy he is. Now is the time for us to be there for him. Chi miigwech for your thoughts and prayers.. Thank You




Minneapolis North High School Class of '66
In Memory of our Classmate
Minneapolis

North




Ernie Saice 1965

High

School



Ernie Saice
It is with deep sadness that we report the shocking news of the death of Ernie Saice. Ernie who had a history of cancer problems was rushed to the North Memorial hospital by ambulance early in the morning of April 27th, 2016. Because he was so weak and having problems breathing! He will be greatly missed by his family & friends. We give thanks for Ernie's life. We ask that the Class of '66 please make every effort to attend the memorial service coming up soon to honor our friend and classmate who has died. Service time and location will be announced soon.
From:
Bonni Saice
April 29th, 2016
So many tributes and so much love for a truly great man. My heart breaks for all of the suffering Ernie endured the past couple of months, but I still prayed he would get better and kick cancer's butt. He was loved by his whole family and so many friends. Even the funeral chapel in Robbinsdale speak of how he always stopped in to chat with them on his route and what an optimistic man he was. Words can not express how much I will miss him, after being married to him for almost 48 years. I'm not sure what I will do in the future without him, besides missing him with my whole heart. I'm so happy we got to enjoy so many retirement years together. Last winter was wonderful as we went to so many places he loved. Winter in Florida last year was one of our best as he was no longer was on chemo and he was able to get his strength back for another fight when we got back home. It has been a long hard struggle on all of us but are glad his suffering is over. We all will miss his great love and support. Many thanks to everyone for the very special messages for me and my entire family. It only proves to us what a great man we called brother, husband, father, grandfather, uncle, cousin, or friend. He touched so many of our lives in the very best way!
Arrangements:
Visitation on Wednesday from 5 to 8 pm at Gearity-Delmore in Robbinsdale.
Funeral on Thursday at St. Alphonsus Catholic Church at 11:00 am and burial at Ft. Snelling
| | |
| --- | --- |
| Josh Carlson and Ernie Saice | Tonight I lost my best friend in the whole world to cancer. Most people who are diagnosed with stage four lung cancer are lucky to live another 6 months... My Grandpa lasted two years. He never stopped fighting for his family and friends and I am so damn proud of how hard he fought. My Grandpa was my hero, and I will always cherish the 18 years and 11 months we had together. Days after he was first diagnosed with cancer Stuart Scott gave his speech at the ESPY's after winning the Jimmy V perseverance award. I think Stuart put it best, "When you die from cancer it doesn't mean you've lost the fight. You beat cancer by how you live, why you live, and the manner in which you live.." This speech really spoke to me. |
It was that night that I got a crazy idea. I wanted to do something special for my grandpa, something he would NEVER forget. It was that night that I spent hours thinking of ways I could show my Grandpa how much he meant to me. What was one thing my grandpa and I always enjoyed together growing up? Baseball. My grandpa was a huge twins fan. I managed to reach out to the President of the Minnesota Twins organization Mr. David St. Peter. To be quite honest I wasn't expecting to hear a response back, but I figured t was worth the try. So I sent him an email in which I poured my heart out and told him the story of my grandpa and how he was just diagnosed with cancer and he needed something to lift his spirits. A couple days had passed and I hadn't gotten a response. I really didn't think I would get one. It must have been a week or so after I sent the email, I was laying in bed about to go to sleep. I checked my email and I had gotten a response from Mr. St. Peter. His email said he would like to bring My whole family of 13 to the game on behalf of the Minnesota Twins right behind home plate.... Thinking about that moment still gives me goosebumps today. I remember running upstairs and telling my mom with tears in my eyes. I couldn't wait to tell my grandpa. After that things seemed to just keep getting better. Friends of my grandfather managed to put enough money together to buy us a huge bus that would pick us up from our house and bring us straight to the stadium. We arrived at the stadium and were greeted by Mr. St. Peter's assistant. She brought my grandfather and I along with my cousin and little sisters down onto the field during batting practice where my grandpa got to meet his favorite twins of all time Tony Oliva and Paul Molitor. It brought tears to my eyes seeing how happy that made him. Moments after meeting those two, the current manager at the time Ron Guardenhire approached us. He asked my grandpa and I what we were here for so we told them. Mr. Guardenhire then told us to follow him cause he had something to show us. He then proceeded to bring us into the clubhouse and give us a full tour of the whole facility. I couldn't have asked for a more special moment to share with my grandfather and he told me multiple times before he passed that that was the best day of his life. I will always cherish that day and what the Minnesota Twins did for my family. My grandpa kicked cancers ass!! I have never met a man in my life who was as strong, kind, and loving as him. The world lost a very special man today, and I am so proud to say he was my Grandfather. I love you with all my heart grandpa and even though I didn't get to talk to you while you were awake today I will always remember the final words you said to me

❤️

You will be in my heart always papa... Rest in paradise
| | | |
| --- | --- | --- |
| Josh Carlson 2015 | Today I woke up and there wasn't a cloud in the sky. I stepped outside to get in the car and drive to my grandpas house where we would meet up with everybody before we made our way to the funeral home. I was looking for signs of my grandpa everywhere. It was then I looked up in the sky and saw one lone cloud standing out above my house. It gave me goosebumps. It looks like an angel!! You can make out a nose, an eye, the wings, legs, and an arm reaching out. I know that my grandpa is looking over us and giving us strength in our time of need. Love you Grandpa, you'll always be on my mind! | |
| | |
| --- | --- |
| David Saice Sr | My Big Brother My Hero I Grew Up Having Two Of The Greatest Men In The World My Brother And My Dad And They Are Two Warriors Dad WW II And Jr. Vietnam And They Were Both Great Dad's Husbands Grandps To Know Them Is To Love Them They Are Saying Prayers For Bonni Saice And The Kids And Grandbabys I Love Them And I Know They Are Going To Be There to Walk us Home I Love My Family And Friends. As We Walk To The The Sacred Tree To Send Our Prayers As We Go Through This Year Of Loss Of My Brother Ernie Saice He Will Be Praying For Bonni and the Kids And Grandbabys He Will Be Coming To Visit Bonni and the rest of us I am Happy He Has No Pain And He Is Getting To Spend Time With All Of Are Loved Ones That Have Gone Home Love You Brother And Bonni Know That You Are In My Prayers Everyday |
Minneapolis North High School Class of '66
Terry Tompkins Class of '66

Ernie has set a high standard for grandfathers everywhere. To you, your family, and Bonnie, our deepest sympathy and respects for a friend from days gone bye.




Terry Tompkins, Minneapolis North High



Previous Page




Minneapolis North High School

Class of 1966 -

Index page




Next Page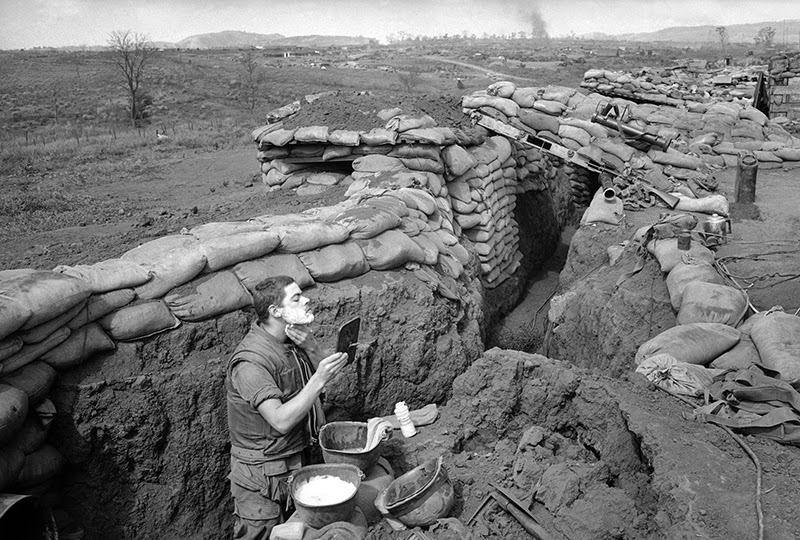 Vietnam 1968
Ernie Saice 1968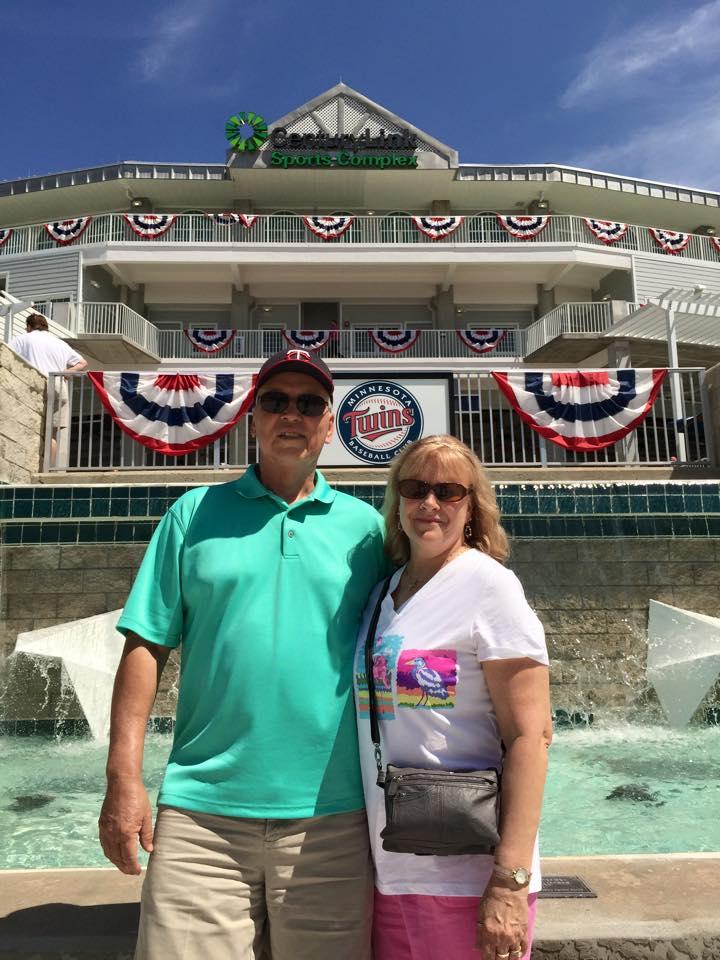 Ernie & Bonita Saice at Minnesota Twins Spring Training. 2015
2012
Click to Listen To The Music!


"Thank You For Being A Friend With Lyriecs"
by Andrew Gold,

for all Our Facebook Friend!
North




H

i

g

h




S

c

h

o

o

l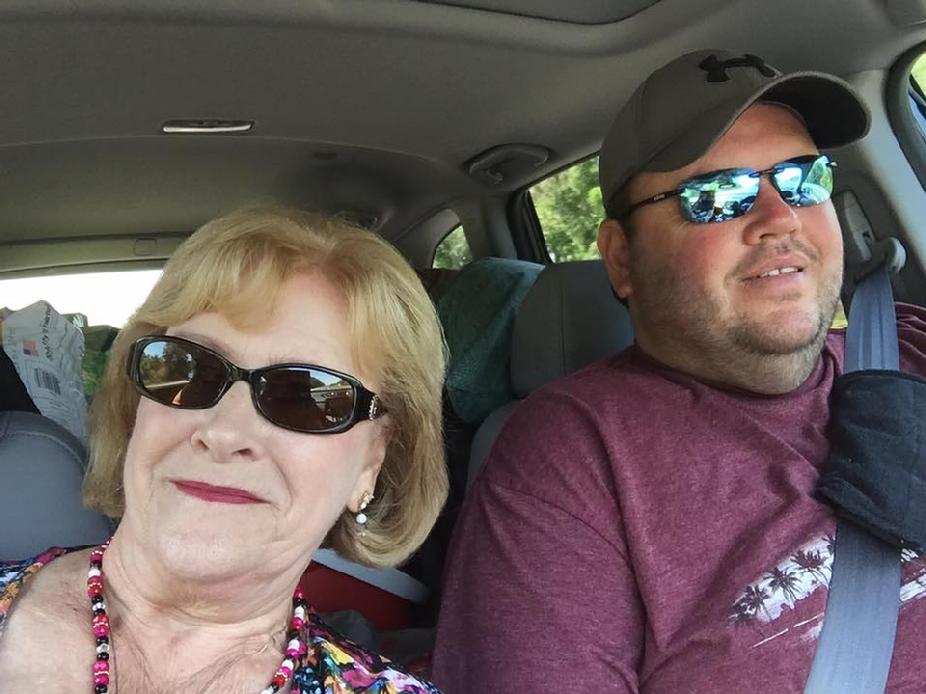 Thanks for stopping by today