Marilyn Monroe
Bobby Pin

Clearance price
$2200.00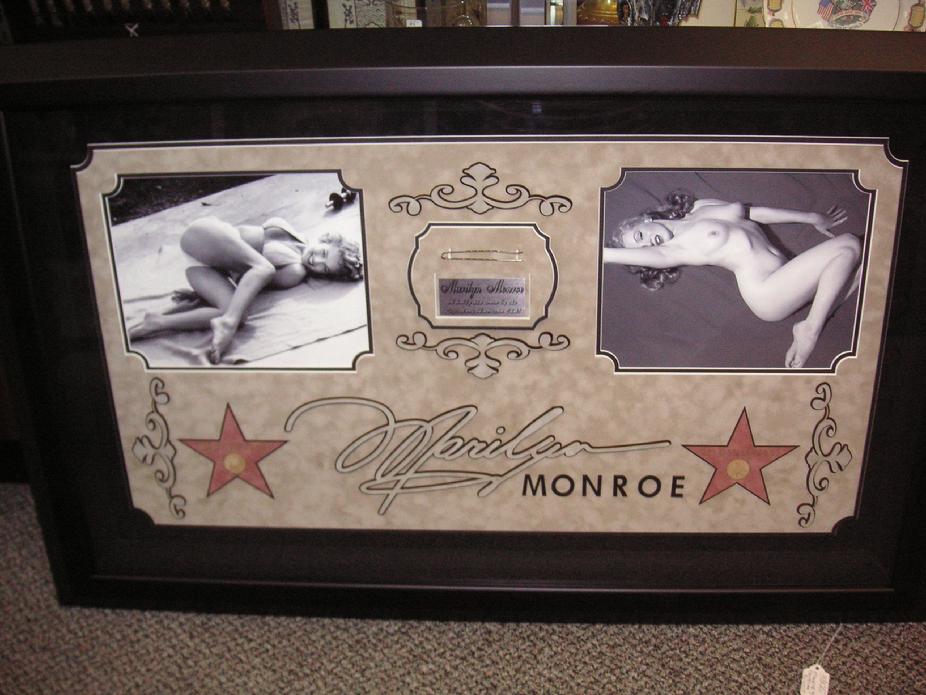 Clearance Sale - Price $2200.00 5/13/10
Biography


Marilyn Monroe personified Hollywood glamour with an unparalleled glow and energy that enamored the world. Although she was an alluring beauty with voluptuous curves and a generous pout, Marilyn was more than a '50s sex goddess. Her apparent vulnerability and innocence, in combination with an innate sensuality, has endeared her to the global consciousness. She dominated the age of movie stars to become, without question, the most famous woman of the 20th Century.

She was born Norma Jeane Mortenson on June 1, 1926 in Los Angeles, California, to Gladys Baker. As the identity of her father is undetermined, she was later baptized Norma Jeane Baker. Gladys had been a film cutter at RKO studios, but psychological problems prevented her from keeping the job and she was eventually committed to a mental institution.

Norma Jeane spent most of her childhood in foster homes and orphanages until 1937, when she moved in with family friend Grace McKee Goddard. Unfortunately, when Grace's husband was transferred to the East Coast in 1942, the couple couldn't afford to take 16-year-old Norma Jeane with them. Norma Jeane had two options: return to the orphanage or get married.

On June 19, 1942 she wed her 21-year-old neighbor Jimmy Dougherty, whom she had been dating for six months. "She was a sweet, generous and religious girl," Jimmy said. "She liked to be cuddled." By all accounts Norma Jeane loved Jimmy, and they were happy together until he joined the Merchant Marines and was sent to the South Pacific in 1944.

After Jimmy left, Norma Jeane took a job on the assembly line at the Radio Plane Munitions factory in Burbank, California. Several months later, photographer David Conover saw her while taking pictures of women contributing to the war effort for

Yank

magazine. He couldn't believe his luck. She was a "photographer's dream." Conover used her for the shoot and then began sending modeling jobs her way. The camera loved Norma Jeane, and within two years she was a reputable model with many popular magazine covers to her credit. She began studying the work of legendary actresses Jean Harlow and Lana Turner, and enrolled in drama classes with dreams of stardom. However, Jimmy's return in 1946 meant Norma Jeane had to make another choice- this time between her marriage and her career.

Norma Jeane divorced Jimmy in June of 1946, and signed her first studio contract with Twentieth Century Fox on August 26, 1946. She earned $125 a week. Soon after, Norma Jeane dyed her hair blonde and changed her name to Marilyn Monroe (borrowing her grandmother's last name). The rest, as the saying goes, is history.

Marilyn's first movie role was a bit part in 1947's

The Shocking Miss Pilgrim

. She played a series of inconsequential characters until 1950, when John Huston's thriller

The Asphalt Jungle

provided her with a small but influential role. Later that year, Marilyn's performance as Claudia Caswell in

All About Eve

(starring Bette Davis) earned her further praise. From then on Marilyn worked steadily in movies such as:

Let's Make It Legal

,

As Young As You Feel

,

Monkey Business

and

Don't Bother to Knock

. It was her performance in 1953's

Niagara

, however, that delivered her to stardom. Marilyn played Rose Loomis, a beautiful young wife who plots to kill her older, jealous husband (Joseph Cotten).

Marilyn's success in

Niagara

was followed with lead roles in the wildly popular

Gentlemen Prefer Blondes

(co-starring Jane Russell) and

How to Marry a Millionaire

(co-starring Lauren Bacall and Betty Grable).

Photoplay

magazine voted Marilyn the Best New Actress of 1953, and at 27 years old she was undeniably the best-loved blonde bombshell in Hollywood.

On January 14, 1954, Marilyn married baseball superstar Joe DiMaggio at San Francisco's City Hall. They had been a couple for two years, after Joe asked his agent to arrange a dinner date. "I don't know if I'm in love with him yet," Marilyn said when the press got word of their relationship, "but I know I like him more than any man I've ever met." During their Tokyo honeymoon, Marilyn took time to perform for the service men stationed in Korea. Her presence caused a near-riot among the troops, and Joe was clearly uncomfortable with thousands of men ogling his new bride.

Unfortunately, Marilyn's fame and sexual image became a theme that haunted their marriage. Nine months later on October 27, 1954, Marilyn and Joe divorced. They attributed the split to a "conflict of careers," and remained close friends.

Marilyn was ready to shed her "shallow blonde" image by 1955. It had gotten her into the spotlight, but now that she had the opportunity and experience, Marilyn wanted to pursue serious acting. She took a hiatus from Hollywood and moved to New York City to study under Lee Strasberg at his Actors' Studio. In 1956, Marilyn started her own motion picture company, Marilyn Monroe Productions. The company produced

Bus Stop

and

The Prince and the Showgirl

(co-starring Sir Laurence Olivier). These two films allowed her to demonstrate her talent and versatility as an actress. Marilyn received further recognition for 1959's

Some Like It Hot

, winning a Golden Globe for Best Actress in a Comedy.





On June 29, 1956, Marilyn wed playwright Arthur Miller. The couple met through Lee Strasberg, and friends reported she made him "giddy." While they were married, Arthur wrote the part of Roslyn Taber in 1961's

The Misfits

especially for Marilyn. The movie co-starred Clark Gable and Montgomery Clift. Sadly, the marriage between Marilyn and Arthur ended on January 20, 1961, and

The Misfits

was to be Marilyn's (and Gable's) last completed film.

At the 1962 Golden Globes, Marilyn was named female World Film Favorite, once again demonstrating her widespread appeal.

Sadly, in a shocking turn of events on the early morning of August 5, 1962, 36-year-old Marilyn died in her sleep at her Brentwood, California home. The world was stunned. Marilyn's vibrant spirit and beauty made it impossible to believe she was gone. On August 8, 1962, Marilyn's body was laid to rest in the Corridor of Memories, #24, at Westwood Memorial Park in Los Angeles, California.

During her career, Marilyn made 30 films and left one,

Something's Got to Give

, unfinished. She was more than just a movie star or glamour queen. A global sensation in her lifetime, Marilyn's popularity has extended beyond star status to icon. Today, the name "Marilyn Monroe" is synonymous with beauty, sensuality and effervescence. She remains an inspiration to all who strive to overcome personal obstacles for the goal of achieving greatness.

| | |
| --- | --- |
| | Thanks for stopping by... |
To all Visitors
This site has been developed not just to sell
Antiques
and
Collectibles
(of course it does some of that) rather it is to provide information about Antiques, Collectibles,
artwork
,
art pottery
,
furniture types
,
furniture styles
,
jewelry
, and
militaria
from the
Revolutionary War
to the
Vietnam War
. This site is all about information and history that is not readily available elsewhere on the Internet. We think West St Paul Antiques is one of the best Antique Malls in the State of Minnesota and we have been working hard to create that excellence for the last 12 years. We have expertise on
Antiques
&
Collectibles
and as we read and study about history and antiques we also strive to be historians. We will share that expertise with you and all the visitors to our site. Stop by and visit our Antique Mall in West St Paul, Minnesota. Or, you are all welcome to visit us on the web.
This is a new website for us at West St Paul Antiques. We hope you enjoy the site. Please feel free to email me directly at
floydruggles@weststpaulantiques.com
if you have any questions or feedback about this site. Please sign our
guest book
and check out our
Poetry Coffee Cup Cafe
, or the
Out and About Gallery
. The
Reference Library
an all 5
Museums
are open to you 24/7 on this website. Stop by one of the
1st Recon Battalion
pages where you can read about my experiences in Vietnam. Oh, by the way, also check out all our
Antiques
,
Collectibles
,
artwork
,
art pottery
,
clocks
,
mall specials
,
furniture
types
and
styles
,
jewelry
and
militaria
items for sale on this site and in our Antique Mall. Check it out by going to
Antique Mall Tour
. This site will be totally commercial free with no fees to pay. I'll be working on this site over time so bear with me. It should be finished by the end of 2010 with over 500 pages at that time and 900 pages by the end of next year.
Click here to go to our web
Site Map and Categories
.
Click a NEW
link

To browse our Home page
,
Look over our Museums
,
1st Reconnaissance Battalion pages
,
Recon Photo Gallery
,
Out and About Gallery
,
Poetry Coffee Cup Cafe
,
About Us
, Christmas Index, Antique Mall Tour,
Antiques
&
Collectibles, Furniture, Jewelry, Art Pottery, Artwork, Militaria,
Contact Us
,
Hours and Directions
,
Dealers pages
,
Consignment
,
Ebay Store
,
Translate this Website
,
Our Blogs
,
Books
,
Bottles & Jars
,
China, Crystal & Glass
,
No Man Left Behind
,
Who Was Really the First President of the United States
,
Halloween pages
,
Primitives
,
Antique Photos
,
The Day Eagle Cried
,
Financial Tip of the Year
&
Remembering The 50's & 60's Music Index
.
or

Go to the top of each page of our website for the menu bar of categories. You will see a drop down menu appear for each category. Click a link to browse o
r click our

Site Map and Categories to find your link.